If you have been looking for a dress that is affordable, can be worn a few different ways and is a great base outfit for winter, the 3/4 sleeve miracle dress is that dress.
I was introduced to the short sleeved version of the miracle dress when my hairdresser was wearing one when I had my appointment a few weeks ago. I asked her where she got it from and she told me one of her clients had set up a boutique shop called Wardrobe 22 under her house in Salisbury and I should totally check her out. Her store and clothes that is. 🙂
I went straight onto Instagram and followed the page and checked out the clothes.
I love supporting new and small businesses because I am one myself. I also find these small businesses can offer a range of clothing that is different to what is in typical high street stores.
The 3/4 sleeve Miracle Dress in Khaki grabbed my attention, so I emailed Karen to see if she would be willing for me to work with her to promote the dress.
Last Thursday morning, I headed to her home with my three girls in tow and started trying on different outfits. You can see some of those pics on the Wardrobe 22 Instagram page.
I took some garments home to style at home, so look out for that post this week.
But I wanted to show you 5 ways you can wear a 3/4 sleeve miracle dress as the style can be converted into a variety of different outfits. Since writing this post, I've discovered a 6th way!
Having a dress that can be worn different ways makes it the perfect garment to own for travelling or if you are trying to create a capsule wardrobe.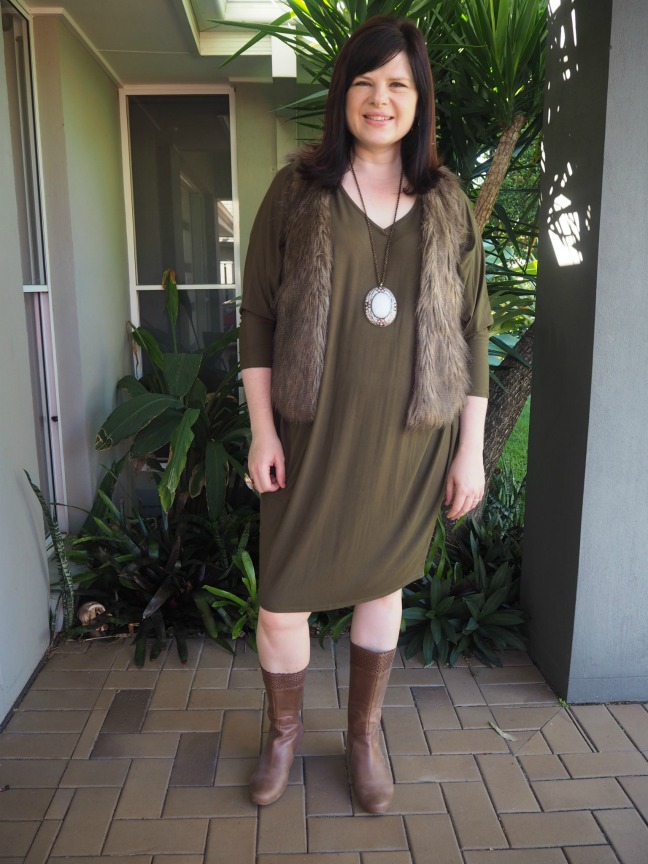 Similar to the convertible dress from Intimo (which I recently received after having an Intimo party), the miracle dress is a budget friendly version and comes in brown, khaki, black, grey and an orange paisley pattern. However I think the Intimo style can be converted more ways – for example, I can't do off the shoulder in the miracle dress. But if you love the Intimo one, but can't afford it, the miracle dress is a budget-friendly, close second option to consider. Plus it comes in more colours.
5 Ways to Wear a 3/4 Sleeve Miracle Dress
The dress is a one size fits all style that will fit an 8 to 22. Worn as is, it has a V-neck and gorgeous drape over the hips which can hide a tummy and flatter your shape. Here I'm wearing the khaki style as is with some simple heels so you can see the shape of the dress.
1. Wear as is with V-neck style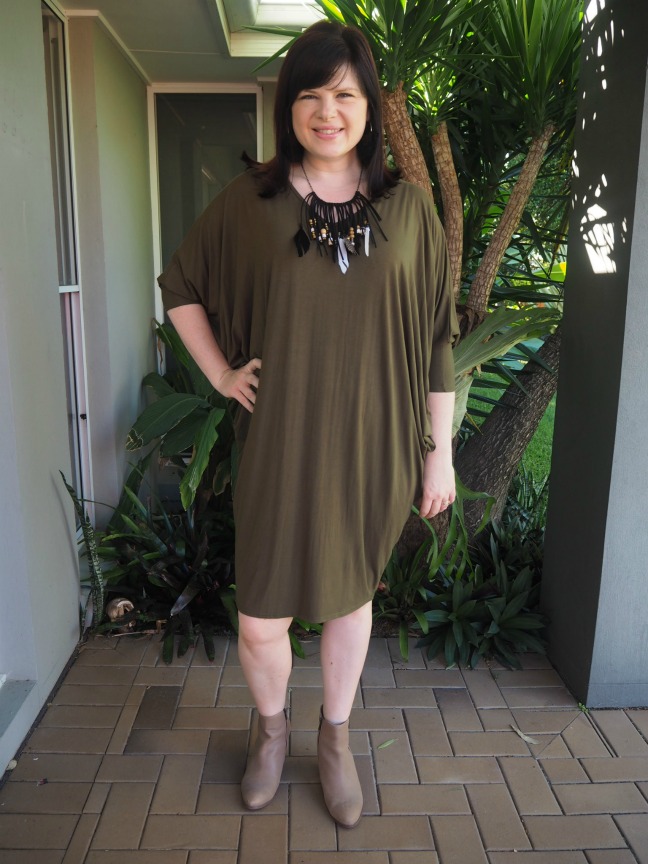 2. Wear Back-to-Front, round neck style
Turn the dress around and wear it back-to-front for a round neck option.
3. Wear as One Shoulder
If you have an event to go to, pull one of the sleeves inwards and tuck it so the drape hangs beautifully, pull the dress down underneath your arm to create a one-shoulder style. Add a necklace and heels.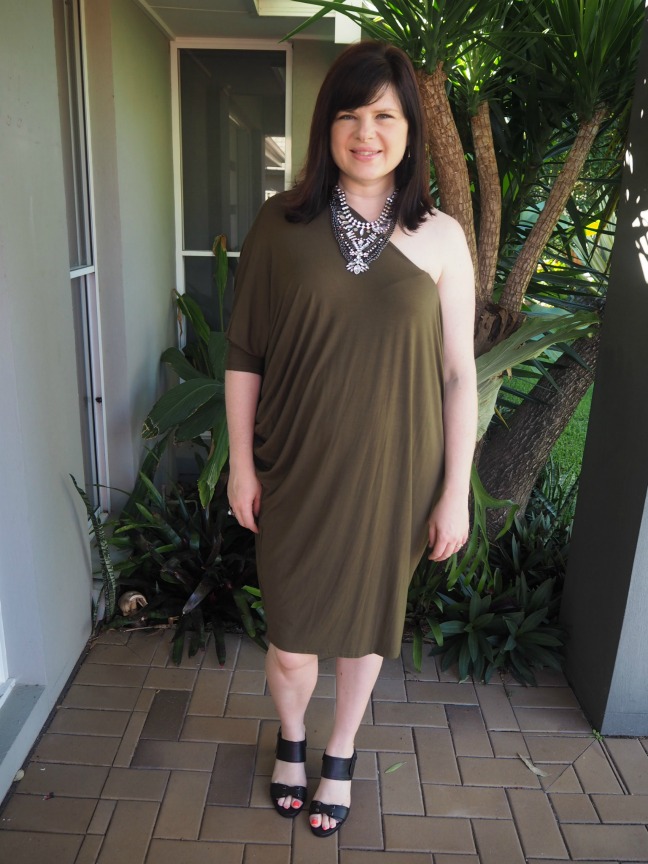 4. Wear as Strapless
I experimented with a grey version which is available in store, but not online yet. Bring both of the sleeves inside the dress and adjust the drape around the hips. Add a necklace and you have a gorgeous sweetheart neckline strapless dress.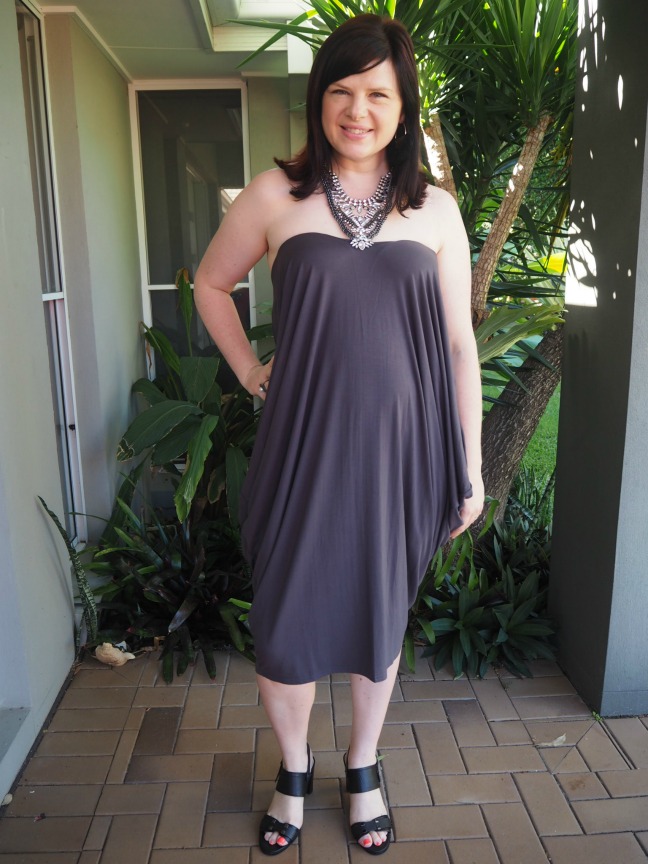 5. Wear as a Top
Bring the hem of the dress up and you can wear the dress as a top. Add a scarf and you're good to go.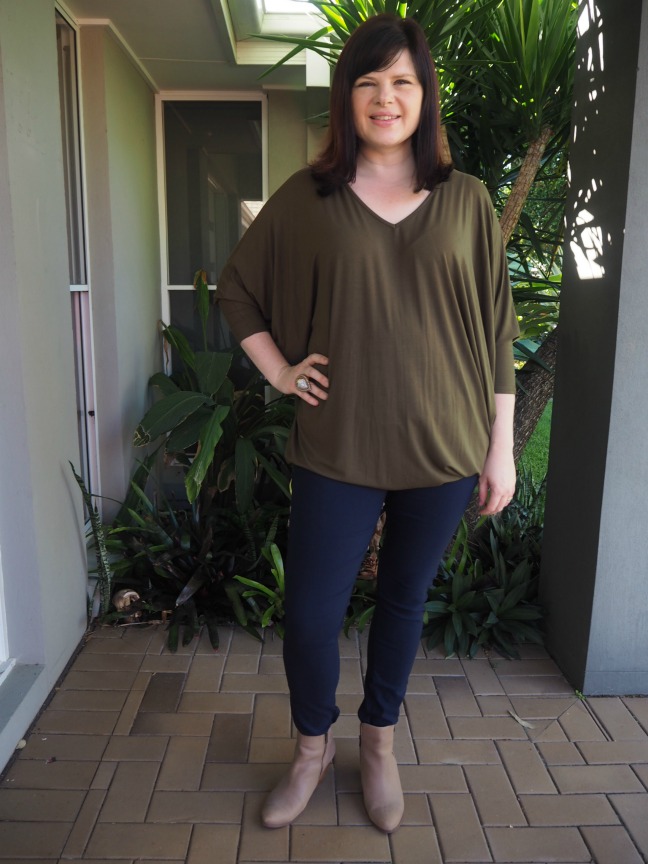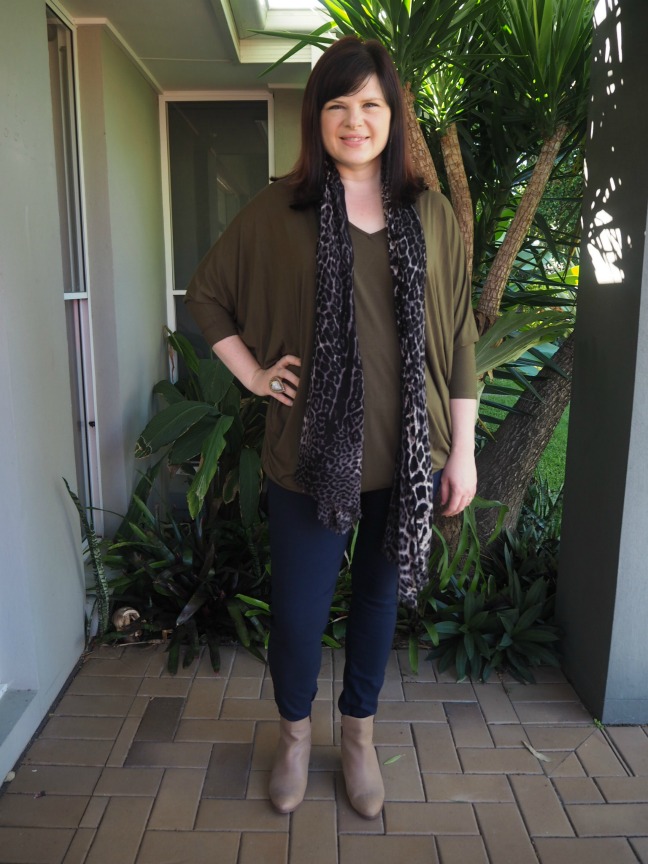 If you're wondering what the sixth way is? Wear the dress back-to-front, raise the hem so you can have a round neck top version.
I know I'm going to get ALOT of wear out of this dress for Autumn Winter 2017.
The dress is available at Wardrobe 22 in khaki and chocolate. In store there are other colours including grey, paisley orange and black.
For $65, you will get a lot of cost per wear from this miracle dress.
So tell me, if you owned a miracle dress, which way would you wear it?
Disclosure: I was gifted one khaki miracle dress for the purpose of this post. All opinions are my own. You can read my disclosure policy here.