What a cool change today has been after the hot and muggy days we've had in the last week here in Brisbane. It's reminded me how much I enjoy the temperatures between summer and winter and winter and summer. With the change in weather, I want to bring your attention to this gorgeous boho maxi dress. It's a new dress that is literally hot off the press. So hot off the press, I was the first person to know about it.
I'm loving a maxi dress with sleeves. I have two in my wardrobe that I love. And I now have three. I could not resist the print of this dress. As soon as I saw it, I knew it had to be mine.
And mine it is, and yours it can be too if you love it as much as I do.
The Boho Aubrey Dress from Wardrobe 22 is STUNNING. It's the perfect dress to wear during summer and during the in between seasons when the weather starts to cool. I will be teaming this dress with a denim jacket when it becomes cooler, because the denim contrasts lovely with the pink and navy print of the dress.
I find this style of maxi dress very flattering on me. I'm quite curvy and like a dress that skims over the curves and camouflages the hip dips that are a natural part of our bodies as women.
I have the Boho Pippa Maxi, which I love to wear too.
Another great thing about these dresses is they can be worn during maternity. They have buttons at the bust and the empire line is perfect to skim over bumps. Just putting that out there if anyone is looking for a dress that allows for easy breastfeeding in the future. Not likely me AT ALL (been there, done that). But having been in the situation of looking for clothes that weren't labelled maternity, and could be worn beyond – well this dress would tick all those boxes.
I'm debuting this dress this afternoon with a catch up with some local bloggers whom I always seem to say 'Let's catch up' and the only times we ever do, is usually during a blogging event. I want to change that.
Another dress that has been released for sale on the Wardrobe 22 site is this Boho Parker Dress. This is a cute print with a zip front and tie string waist. It also has pockets, which for many of you is important.
If you are interested in purchasing the Boho Aubrey Dress from Wardrobe 22, you can get 10% off this dress only by entering BEC10% in the checkout. A discount will be added to the order so you will pay $7 less than the original price (on the Boho Aubrey Dress only). And if you see something else online that you like to purchase, all purchases over $75 get free postage. Happy Days!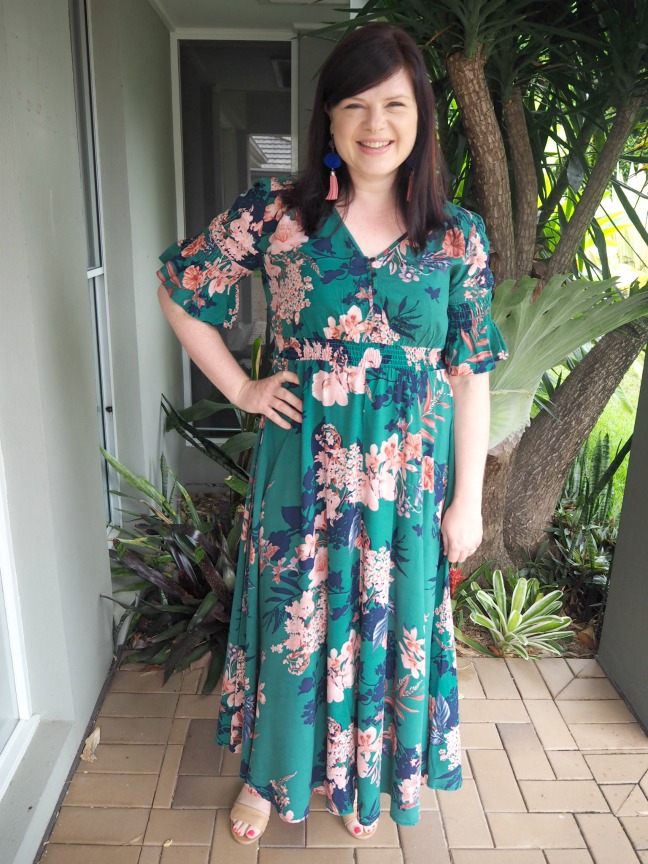 I honestly didn't think I needed any more clothes until I met the Boho Aubrey dress.
On a side note, next Thursday night 8th February from 6:30pm, I will be in the Wardrobe 22 store, available to help you make some style selections or even just have a chat. Check out the Wardrobe 22 Instagram for more details.
Do you love a boho maxi dress with sleeves? Are you happy the weather has turned cooler in Brisbane? What's the weather like where you are?
Disclosure: This dress was gifted to me for editorial purposes. You can read my disclosure policy for more clarification. All opinions are my own.