What colour do you love to wear the most? For me, it's red. Thankfully it's a colour that suits me. Whenever I'm looking for a new piece or want to add colour to a monochromatic outfit, I will add red.
So when I was researching some outfit ideas for the recent corporate post I wrote, I came across this dress from City Chic that had been reduced to $50. I ignored the pulse to buy the dress instantly.
But as the time went (24 hours), I knew I had to make a decision to purchase it because it would be gone if I didn't make a decision soon.
To help me make my decision, I headed to my local City Chic store to try on a dress in the same shape, but in a different colour. It confirmed two things:
What size I needed to buy and that I needed to buy that dress. So I went online and added dress to cart.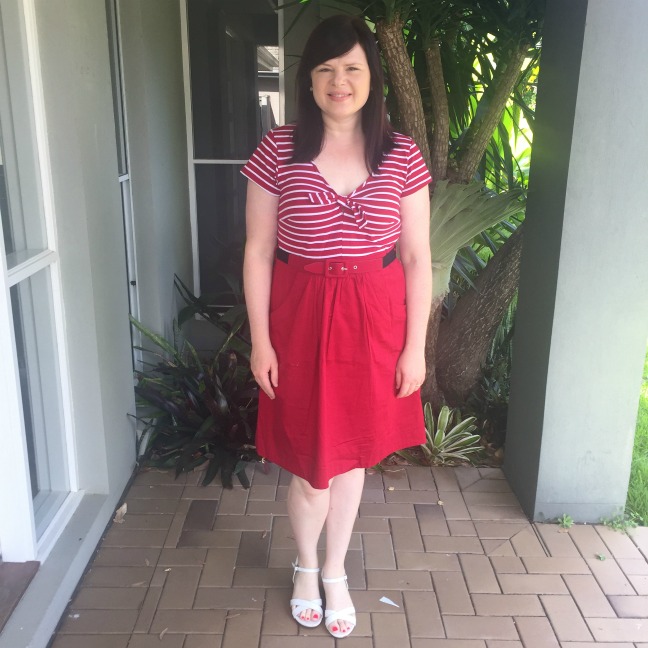 I wore it yesterday and the compliments flowed from my girls, who said I looked like a teacher, to the mums at school drop off, with one yelling from across the car park 'cute dress Bec'.
My mum loved the dress on me, and I got comments from the ladies at the optometrist, who were surprised to learn it was a dress, not a top and skirt.
The fab thing about this dress is it has POCKETS and CAPPED sleeves, which is a style that can be so hard to come by these days.
I'm wearing the XS.
If you love the dress, you can get one here. Only Small and Medium are left.
Now, let's see what my dad thinks of this one. 😉
Ever withheld buying a dress that you loved at first site? Clearly I'm doing well with my shop from my wardrobe intention for 2018. What colour do you love to wear most?
Disclosure: There are affiliate links on this post. Should you choose to purchase an item, I will receive a small commission at no extra cost to you.