My favourite colour is red. Always has been and always will be. My favourite shade of red is not fire engine red, but a deeper darker shade. It has a bit of pink in it, but not too much blue. At the moment, I'm seeing all shades of red in stores, but more particular wine red, which is deep, dark shade of red that shouldn't be mistaken for burgundy. Burgandy has more brown in it.
I'm loving some of the winter fashion pieces for this season being featured in deep dark shades of wine, garnet, plum and ruby. It's a royal shade of red and I'm keen to add this shade to my wardrobe because I find it quite flattering for my skin tone.
Wine red looks great with black, camel, navy, denim and khaki.
I've found some gorgeous fashion pieces that are the perfect shade of wine red to suit all budgets.
Wine, The 2017 Trendy Shade of Red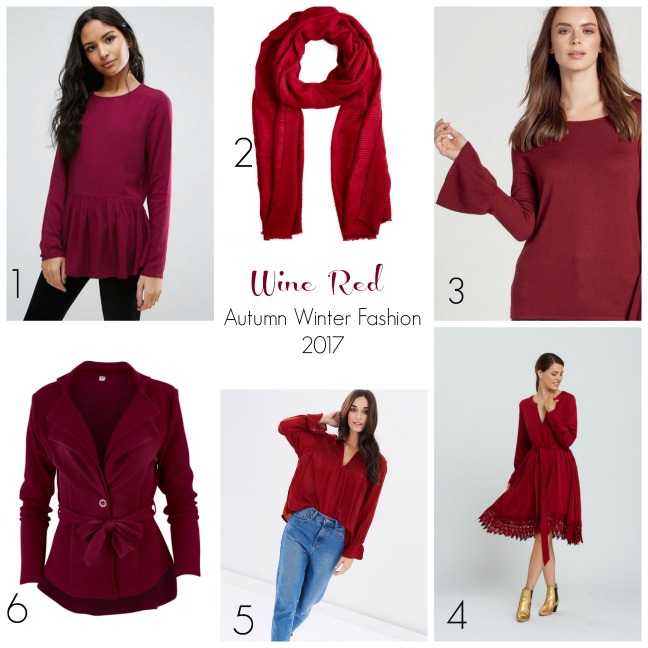 1. ASOS Pieces Ibbi Peplum Blouse $36.00
2. Katies Red Textured Scarf $24.95
3. Katies Garnet Bell Sleeve Knit $34.97
4. Bohemian Traders Wine Winter Dreamer Dress $159.00
5. Kaja Clothing Hanna Top $99.00
6. Bird Keepers by Design Petal Fold Jacket $99.95
Will I see you wearing wine red this season? Or do you prefer to drink it instead?
Disclosure: There are affiliate links on this post. Should you choose to purchase an item, I will receive a small commission at no extra cost to you.