I have been eyeing a few dresses from Little Party Dress. So many of my fashion blogging friends have shared outfits from this online shop. It seems the store stocks many flattering summer dresses.
A couple of months ago I fell in love with the Megan dress in the watermelon print. At the time it was winter and I wasn't interested in buying clothes for summer yet.
Big mistake.
My size sold out.
I showed Jacob the dress and he loved it too. He told me I should have bought it when I saw it! What husband says that?!
But alas, I loved the Leopard Print dress and I thought the Cactus Print dress was pretty cute too. So I signed up to the newsletter, got my discount and free express shipping.
My dresses arrived the next day and they were a perfect fit. I'm calling it the most flattering summer dress. They are a roomy fit, as described online, so I'm glad I bought the size 14. If you choose to purchase, buy a size down.
What I love most about this flattering summer dress is that it has pockets, a belt to add some shape and it covers my shoulders and has sleeves.
I love the off the shoulder trend, but I went on a buying frenzy last summer and realised most of my dresses didn't have shoulder coverage. I like to wear dresses to church and because Jacob and I tend to be outside after the service, I want dresses that have the shoulders covered for sun protection.
I wore my Cactus dress on a date night with Jacob in Coffs Harbour.
The Megan dress comes in a variety of patterns and from what I've noticed, the sizes do usually get restocked. Best to enquire though, if you love the style and a particular pattern.
I've teamed my leopard print dress with my Frankie 4 Sandals and some turquoise Adorne tassel earrings. I love a pop of colour and this outfit made me feel very happy.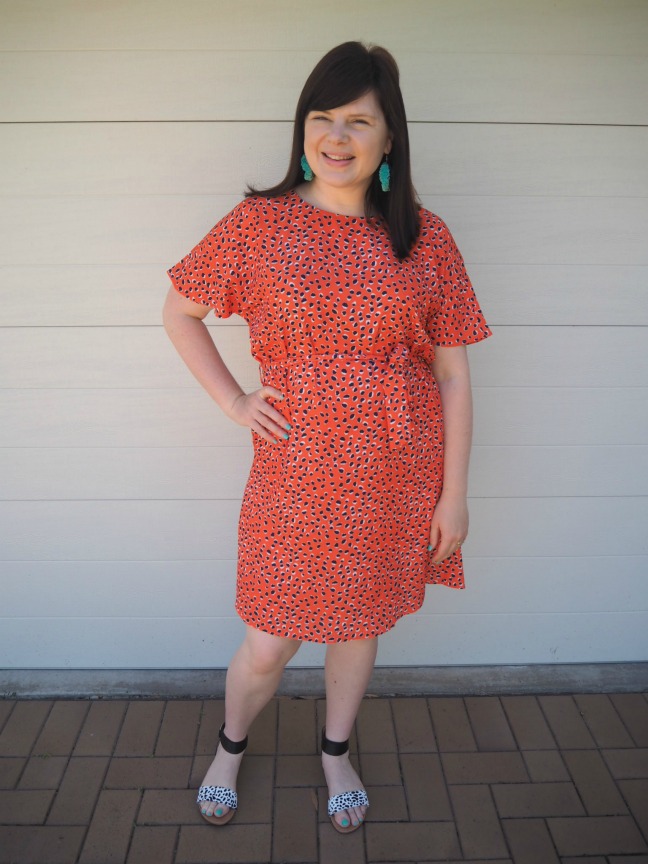 For $59.95, this dress is really affordable. Do sign up to the newsletter to get your first purchase discount if you love it too and wish to purchase.

Have you found a flattering summer dress that you bought two of? Have you bought anything from Little Party Dress?
Disclosure: There are affiliate links on this post. Should you choose to purchase an item, I will receive a small commission at no extra cost to you.