It's a bit hard to believe that Spring Racing Carnival season is upon us. Melbourne Cup tends to be the one race that workplaces stop to put on a special lunch or organise an event. Any excuse to wear a dress and a fascinator in your hair is fine by me.
Florals are a big trend this season, and so I've found 3 budget floral dresses which would work perfectly for a Spring Racing outfit… and beyond.
There are some interesting takes on headwear this year. Succulent crowns are stunning and are a different take on the floral crowns we saw emerge in previous years. The boat hat will also be popular and adds a masculine touch to a feminine outfit.
When it comes to heels, I always choose a block heel or wedge to avoid sinking in grass if the event is outside. I find a block heel is easier to stand in when attending an event.
Here are three outfit options to consider, using some of my tips above.
Floral Spring Racing Carnival Outfit Ideas for 2017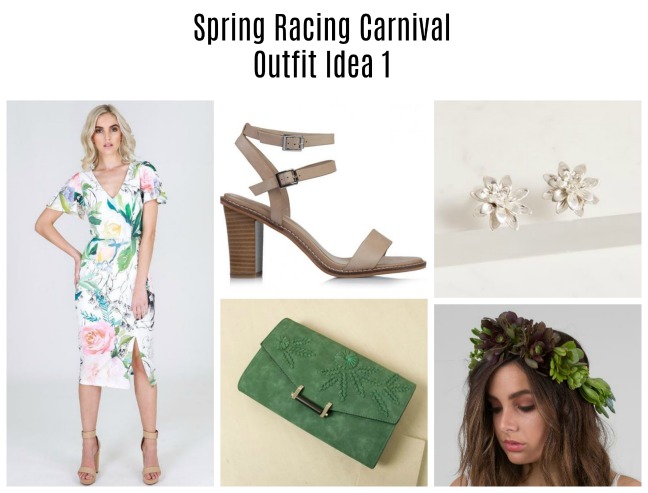 Freez 3rd Love Floral Crush Dress $69
Jo Mercer Elas Block Heel Sandals $179.95
Adorne Sunflower Earrings $24.95
Adorne Flower and Vine Faux Suede Resin Bar Clutch $49.95
Feather and Noise Annabel Crown $99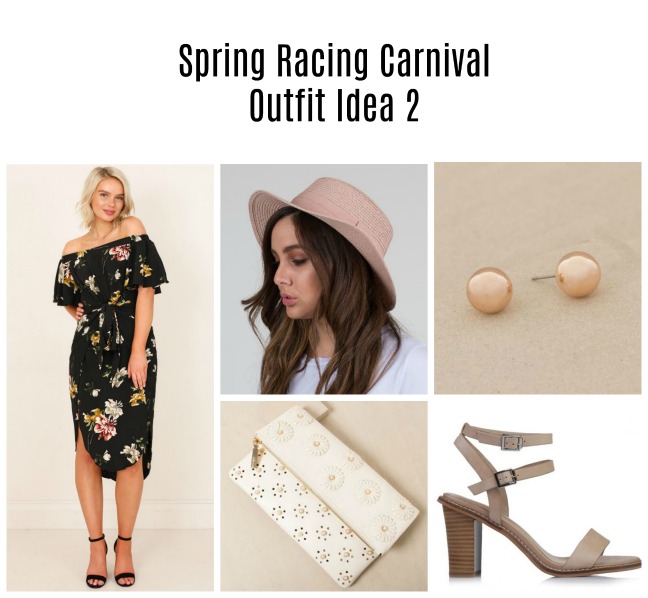 Showpo Snow Bird Dress in Black Floral $69.95
Feather and Noise Juliet Boater Hat $29
Adorne 12mm Ball Stud Earrings $19.95
Jo Mercer Elas Block Heel Sandals $179.95
Adorne Daisy Pearl Clutch $49.95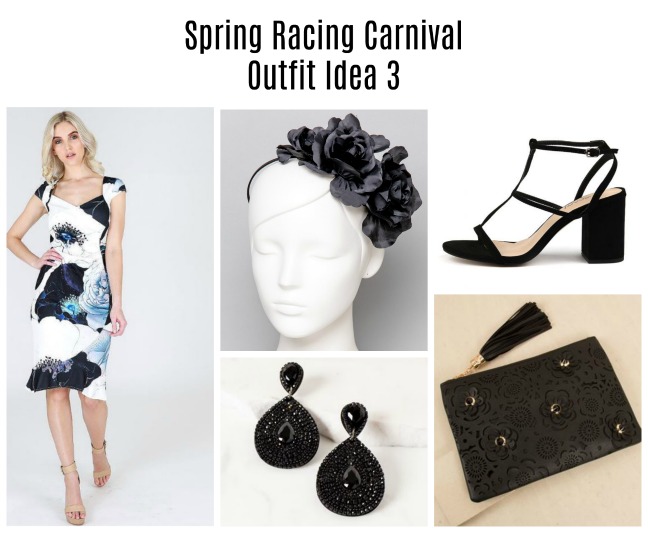 Freez 3rd Love Ruffle Hem Dress $69
Colette Hayman Flower Garland $10.20
Styletread Therapy Microsuede Mardra Heels $59.95
Adorne Black Cut Out and 3D Clutch $49.95
Adorne Double Teardrop Jewelled Earring $39.95
Are you going anywhere for the Melbourne Cup this year? A fan of floral dresses this season?
Disclosure: There are affiliate links on this post. Should you choose to purchase an item, I will receive a small commission at no extra cost to you.