I believe clothes should be worn season after season. I'm a big believer in wearing pieces that will last a few years because it saves me time and money. In the last year or so I have opted for classic colours and patterns I know will last and keep for each season. But what often happens when I wear clothes from previous seasons, people want to know where they can get that same piece now – like the twisted tunic.
One of my favourite tops that I wear on winter days when it's quite warm outside is this twisted tunic from Empress Eleven.
I was gifted this top last winter and I have had so many people comment on how nice it is and how they would like to purchase their own. I love it too. Unfortunately it's no longer available from this brand, but I have found another online store that does a similar style of top and it comes in a number of different colours. I think I love the style of this top more because it's longer at the back.
TOBI has the Get It Twisted Tunic Top in Plum, which is what I'm wearing, and it comes in four other different colours: black, grey, ivory and cream.
I love the plum because it's a rich colour that can be dressed up or down. In these photos, I've opted to wear it dressed down.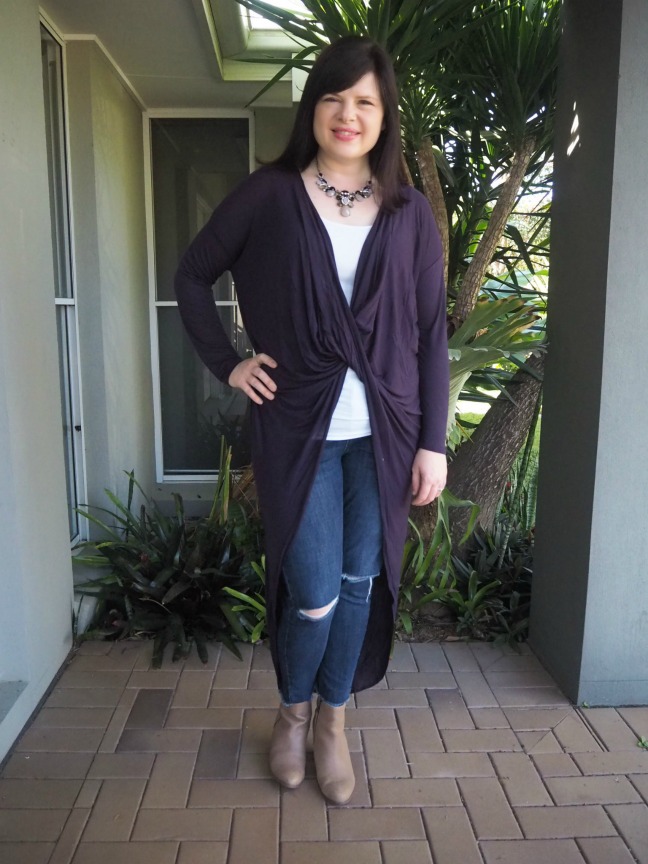 If I was to dress it up I would change the distressed jeans to black skinny jeans and high heels.
I love these twisted tunic tops for a few reasons:
1. They can be easily layered over a simple jeans and white singlet top outfit.
2. They are trans-seasonal – so work well for when the weather is mild – perfect for Autumn and Spring or warm winter days we're currently experiencing in Brisbane.
3. They're flattering. That twist and the drape of the fabric is flattering. Any lumps or bumps on the front and side are camouflaged with the drape of the twist.
I'm wearing a large in this top which fits a size 14 – 16.
If you love this top like I do, TOBI are offering free shipping to Australia, with no minimum spend.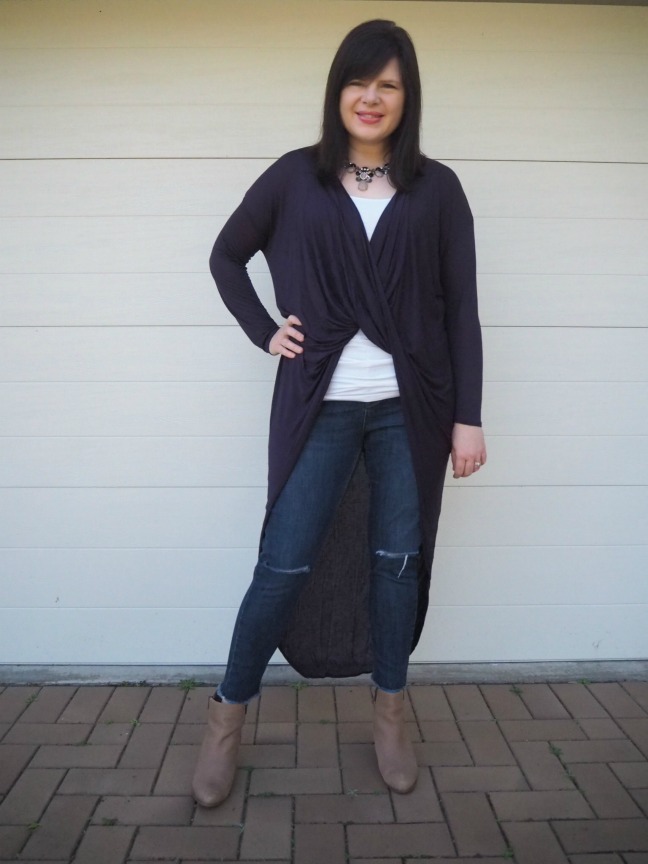 The plum tunic is currently 60% off – priced at $31.71 which is a bargain, especially when free shipping is involved.
I can't wait to share more pieces from TOBI in the future, but I'm glad I could find a top alternative for those that love my grey twisted top.
Are you a fan of tops that can be layered? Which colour twisted tunic would you choose?
Disclosure: I was gifted a TOBI Get It Twisted Tunic Top in Plum. All opinions are my own.