If you love Gorman you will love these alternative clothing designs that offer a bright print and could almost be mistaken to be Gorman design. My love for Gorman won't wane, but I do like to have variety in my wardrobe, and if it's cheaper, that's a bonus. I also like to support local businesses where I can, and these three alternatives are Australian owned.
One of my favourite T-shirts to wear is this Gorman diamond t-shirt. I loved the print as soon as I saw it in store. But couldn't afford to pay full price. So I waited until boxing day sales last year and snagged this t-shirt, which has had a lot of cost per wear. I also got leopard print pillow cases too, which I love having on the bed.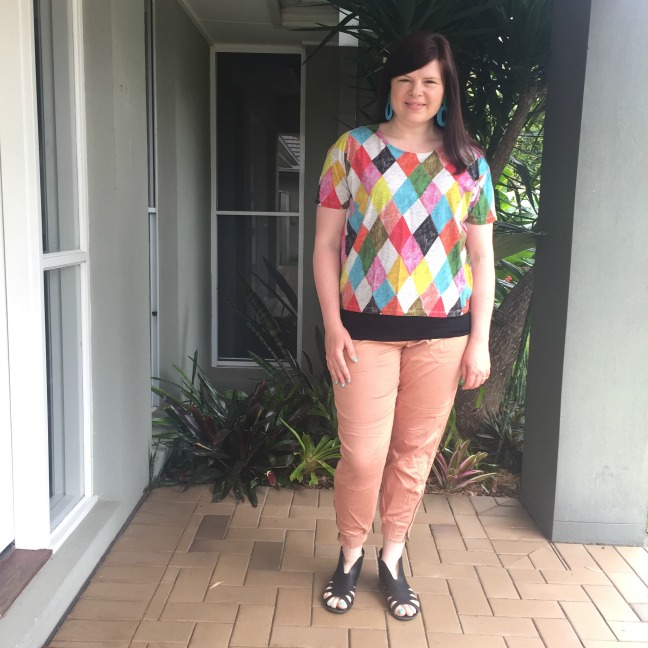 So if you love Gorman clothes (like I do) and want some other options to mix with your existing pieces or you simply want to discover brands that create similar patterns and designs, here are three brands to consider.
OMG. This dress was LOVE at first sight. If I hadn't have had to invest in a few essentials these last few weeks, this dress would be added to cart IMMEDIATELY. I just love the print, the colours and the style. The designs are hand drawn and then screen printed by the designer, Jane Newham. I love the prints and so do a lot of others, as they seem to sell out quite quickly.
I love this bright and colourful print from KarlaCola. It feels familiar – maybe a print I wore as a child brought up in the 80's? KarlaCola makes gorgeous, handmade dresses and tees from organic cotton and jersey. This print is a KarlaCola x Maggi McDonald Art collaboration. This is definitely on my Etsy wish list and the store has been added to favourites.
I have been watching many of my fashion friends wear dresses from this brand. I decided to add a few dresses to my wardrobe for summer (I went a bit nuts for off the shoulder last season and I'm now looking for dresses that cover my shoulders). I was super impressed with the delivery (next day) and fit of the dresses I got. I will share them in the future with you, but for now, here are some prints that reminded me of Gorman straight away. Also, if you buy today until the 17th October, you can get 25% off. Just add kel25 at the checkout, to celebrate the owner's 33rd Birthday.
I recently joined a Facebook group that is dedicated to women who love to show off their Gorman outfits (Thanks Carly for inviting me). I just love seeing the outfits shared in there and it gives me an idea of the pieces I have my eye on like:
Do you love Gorman too? Are you a fan of bright and colourful patterns when it comes to clothes? Know of some other brands I might love too? Please do share them in the comments.
Disclosure: There are affiliate links on this post. Should you choose to purchase an item, I will receive a small commission at no extra cost to you.