As my style has evolved after having children, I have embraced wearing colour. One of the easiest ways for me to do this is with my earrings. I have been loving the pom pom and tassel earrings that are so popular this season (yet again). I love bright colours and wearing the unexpected. My favourite pom pom and tassel earrings are from SFH Designs. The owner, Sarah, has a gorgeous eye for style and COLOUR. My goodness, you must follow the SFH Designs Instagram feed. It always makes me happy. There is so much colour.
So since I am an avid fan of the brand and anything to do with pom poms and tassels, as soon as I saw this pom pom basket, I knew it had to be mine.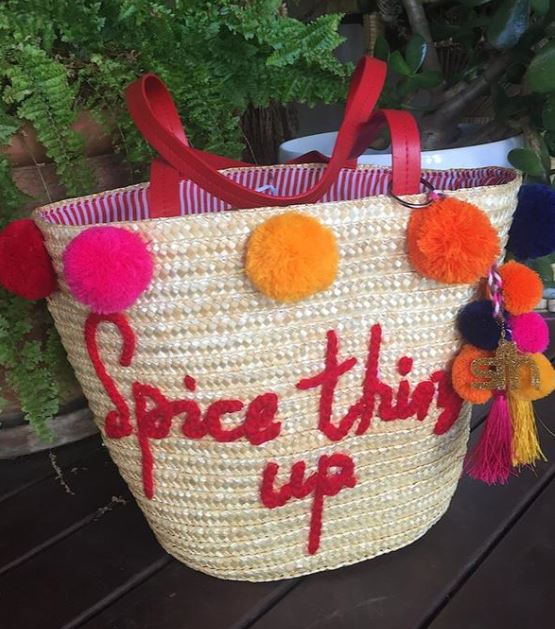 Unfortunately, I have recently spent a small fortune on my everyday bag. So I waited and crossed my fingers for a sale. I also hoped it wouldn't sell out before I got one.
Last weekend, there was a 20% sale online and I added that basket to cart. And would you believe I BOUGHT THE LAST ONE.
I told Jacob, this was my Christmas present. It practically had my name on it with the signature pom poms and red stitching and handles. I can't wait to use it this Summer.
Now because SFH Designs are located at Greenslopes, I opted to pick up the basket instead of pay for postage. And that decision turned out to be a very good one, as I got to have a coffee with Sarah and discuss the joys of raising three girls. Sarah has three teenage girls, so she enlightened me with what I will be facing in a few years' time.
While we were talking, Sarah asked if I'd model some new kaftans and dresses so they could be uploaded to the site and I thought I'd share some of my favourite pieces that I modeled and a clutch that I think would make a fabulous Christmas gift to yourself.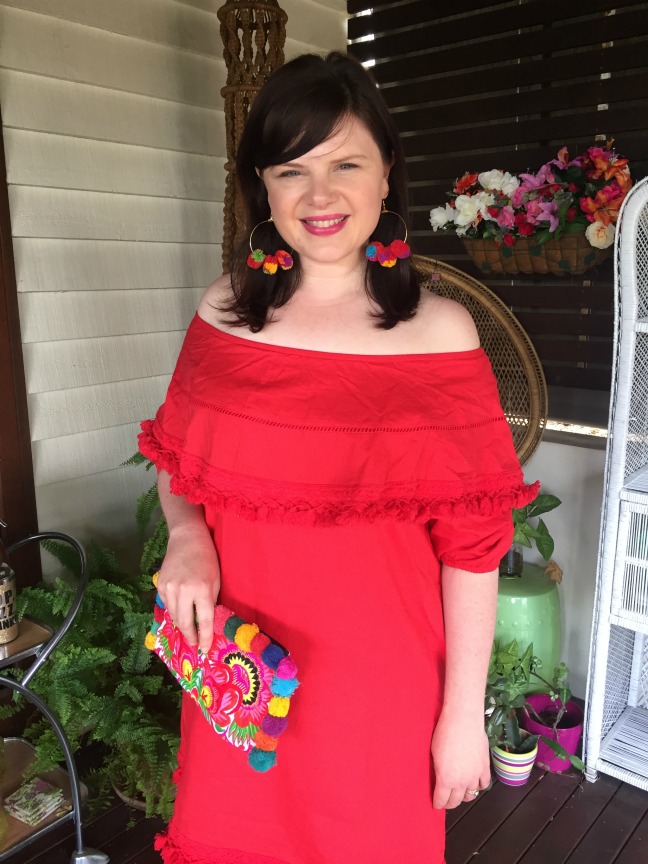 The standout dress that I modelled was this tassel dress in spectacular red. It is a generous size. I'm usually a 14-16 depending on the brand. And I'm wearing the 12 here. It's a gorgeous linen and I think this was my favourite style to model.
The next outfit I liked was this black kaftan. All the kaftans I modelled are free size. The draping adds shape and yet it is still flowy.
I loved the vibrant blue in this kaftan. It's also picked up by the tassel earrings.
One of my favourite clutches has to be my pom pom embroidered clutch. I actually won my clutch a few years ago from a competition at Kirsten and Co. Mine is a black base colour, but I also love this Indigo one.
If you love any of these outfits or even the clutches, there is a special promotion until the 19th December. Buy any Pom Pom Clutch or Dress to receive a FREE pair of tassel earrings valued at $20 (colour chosen by one of our SFH stylists), 'til stocks last!
Also, to make sure you get your purchases in time before Christmas, SFH Designs will be offering FREE Shipping from December 1st to 19th. Simply enter the code FREESHIPPING at the checkout to redeem.
Sarah will also be offering FREE gift wrapping on parcels to make your life easier.
Be sure to check out the rest of the accessories and bags online. I've got my eye on some pom pom earrings (but of course!)
Do you like wearing colour? Do you prefer tassels or pom poms? Which dress is your favourite from the ones I modelled?
Disclosure: I was gifted a pair of earrings and 2 dresses for my daughters as they weren't correct sizing. I just love this brand and happy to share the love of it – whether I received gifts or not.