It's been a long while since I've needed to create a smart casual corporate wardrobe. I say smart casual because work wear for the office seems to be more relaxed these days, unless there is a specific corporate wardrobe code employees need to abide by. For myself, I   occasionally will go to an event or have a meeting that requires business wear and I have enough smart casual clothes that can double as a corporate outfit, with the right accessories and a simple blazer.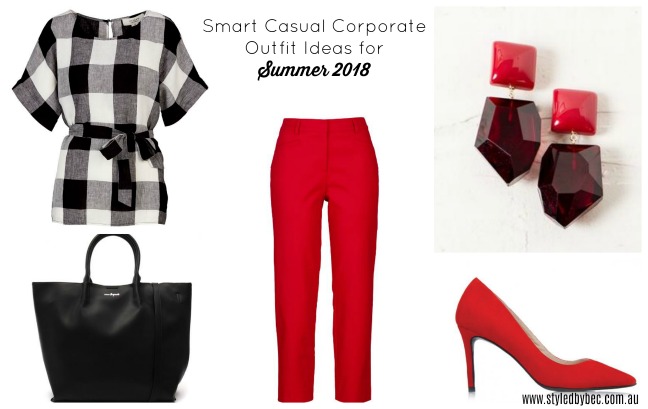 The corporate world of dressing can be varied. Some companies are strict with their dress code, while others are happy with smart casual outfits.
I've created 4 smart casual corporate outfits for summer, that can be elevated with a blazer.
Black and white are always a good base to start from. I've added red because it naturally pops against black and white, and it's a colour I enjoy wearing. You can create similar outfits using your colour of choice.
Other base corporate colour combos I love are navy and white, and khaki and beige.
The khaki shirt dress I've featured below has been reduced to $40 at Birdsnest. The sleeves can be rolled up for summer and left down for winter. It's also a piece that can be worn outside of work. Having pieces in your wardrobe that can double up for different occasions is smart buying and will give you that extra cost per wear.
Capsule Corporate Wardrobe
I believe every corporate wardrobe should have:
1 Block Coloured Pant (Black or Navy)
1 Block Coloured Blazer (Black, Navy or your colour of choice)
1 A-Line or Pencil Skirt in a Block Colour (Black, Navy or Grey)
3-5 Shirts or blouses – patterned, bright coloured or white
1-2 Corporate dresses
1 pair of Black Pumps
1 Pair of Block Heels in colour or pattern of choice
This creates a capsule wardrobe which will give you at least 2 weeks' worth of individual outfits.
When choosing block pieces, go for quality over quantity and buy what you can afford. Create a work wear wardrobe that can be well worn during the year and beyond. You can create that feeling of having a new outfit by simply selecting pieces from your capsule wardrobe, that have never been teamed together.
When you do add new pieces, ensure they will fit well into your capsule wardrobe.
Smart Casual Corporate Outfit Ideas
If you're looking for some Smart Casual Summer Corporate Outfit Ideas, here are a few I put together. I'd wear all of these, and the pieces are readily available from online or bricks and mortar stores. The outfits I've created below, can also be intermixed with each other to create new outfits.
Top: Gorman Notes Swing Shirt $139 (on sale), Earrings: Adorne Red Earrings $7, Pants: Sussan Slimline Black Pant $89.95, Bag: Urban Originals Tote $90, Shoes: Jo Mercer Celia Court Shoes $159.95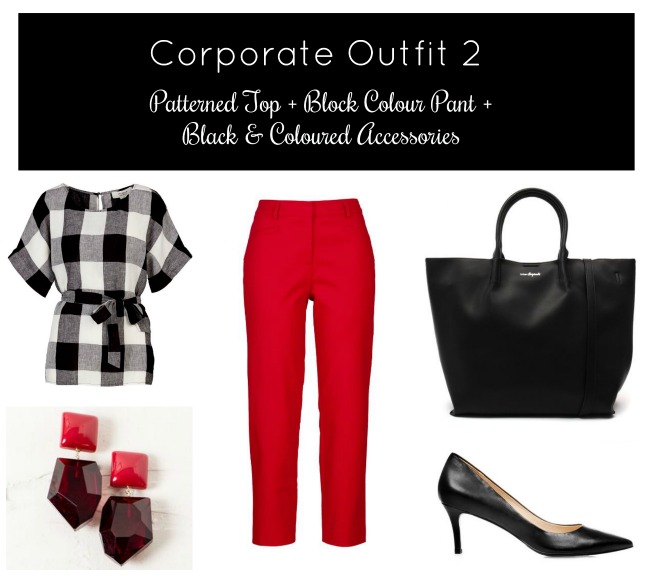 Top: Jacqui E Linen Tie Front Blouse $59.95, Earrings: Adorne Red Earrings $7.00, Pants: Jacqui E Micki Fashion Pant $59.95, Bag: Urban Orignals Tote $90. Shoes: Jo Mercer Black Leather Court Shoe $99.95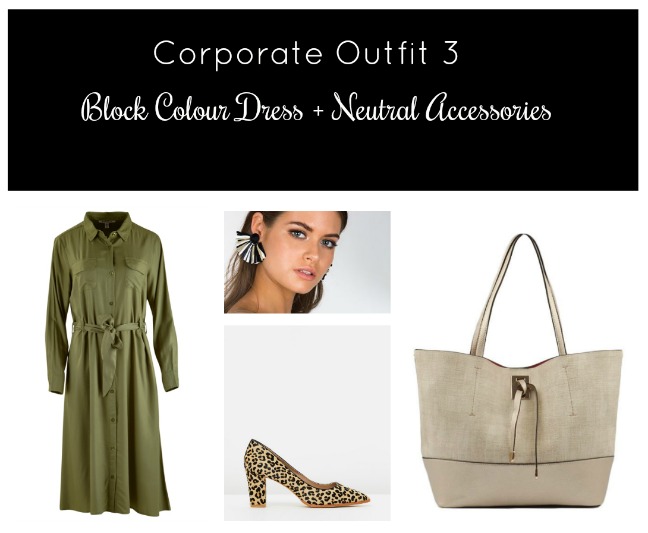 Dress: Bird Keepers A-Line Khaki Shirt Dress $40,  Earrings: Fan Raffia Earrings $34.95 Shoes: Shoes of Prey Leopard Print Heels $209,  Bag: Kinsley Latte Smooth Tote $74.97
Dress: City Chic Stripe Floral Dress $50 (on sale), Blazer: City Chic Black Cropped Blazer $89.95, Earrings: Adorne Red Earrings $7.00, Bag: Urban Originals Tote $90, Shoes: Jo Mercer Celia Court Shoes $159.95
Do you have to abide by a corporate code for your work wardrobe? What kind of smart casual corporate outfits do you typically wear to work?
Disclosure: There are affiliate links on this post. Should you choose to purchase an item, I will receive a small commission at no extra cost to you.