If there is one way to add fun to your outfit, it's wearing a print or a piece that features a childlike shape.
In my travels at the shops and online, I've come across a lot of stars.
I've seen stars on tees, stars on earrings or hoops shaped as stars and last week I saw boots with stars on them.
The star print is fun, yet hip. It's just another way to add some interest to your wardrobe, without relying on accessories and layers.
The pieces can also be worn at Christmas (if they're trans-seasonal).
Here are some fashion pieces I've found online featuring stars.
Cartel and Willow Chester Tee $69.30 (on sale)
Scotch & Soda Loose Fit Tee $37.48
Gordon Smith Star Skirt $99.95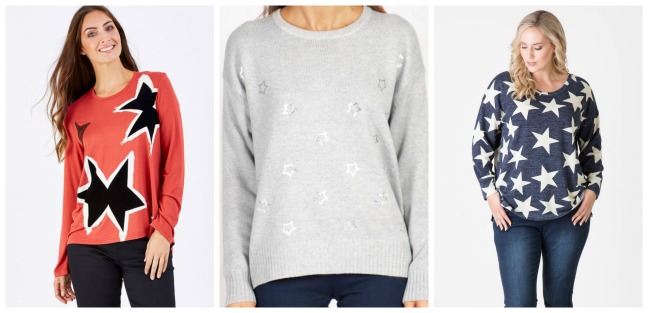 Threadz Star Knit $54.95
Spicy Sugar Star Knit $29 (on sale)
Love Your Wardrobe Star Print Top $99.95

Silver Star Hoop Earrings $10.95
Styletread Jacqueline Misty Grey Leather Boots $289.95
Adorne Starbright Fringe Earrings $34.95
Are you a fan of the star print? Any pieces take your fancy?
Disclosure: There are affiliate links on this post. Should you choose to purchase an item, I will receive a small commission at no extra cost to you.