We've still got another month of winter left before it's Spring, and yet I'm telling you three trends that I see happening for next season. A bit of online research and some bricks and mortar visits have confirmed three trends for Spring 2017 that you may want to keep a look out for if you want to inject some key season trends to your wardrobe for when the winter heats up.
We've seen these trends before, so there is nothing groundbreaking about them. In fact, you may find you have a few of these pieces in your wardrobe already. Even if I already do own some of these trends, I will never say never to another purchase in the near future. There will be plenty of new spring and summer stock flooding through the stores in August, which makes it a good month to buy winter knits and jackets that tend to go on sale to make way for the new stock.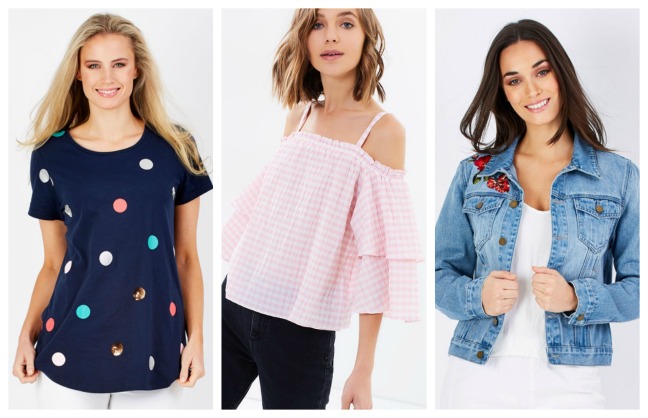 Three Spring Trends 2017
Spots
So the first trend I have been seeing EVERYWHERE is spots! A spot over here and a spot over there. There seems to be spot tees, dresses and knits everywhere! My spot collection is now on par with my stripe collection! I think I maybe a little obsessed with this pattern. But it's a fun print and can be worn now with a jacket.
Gingham
This is such a classic print, yet this season it will be seen quite a bit in stores and online. In fact, it's quite a popular print online. The classic black, navy and red gingham patterns will be popular. It's the perfect print to wear with a simple basic like shorts or a tube skirt.
Embroidery
Embroidery will be gracing jeans, denim jackets and shirts this season. Definitely not something we haven't seen before, but still a fun trend to add to your wardrobe for a little interesting detail. Not sure on the longevity of this one, but I think an embroidered denim jacket would suit nicely with a miracle dress for a trans-seasonal outfit.
When it comes to seasonal trends, I opt to buy and wear what I love, as opposed to what is supposedly in. But these three trends stood out to me both online and instore. And thank goodness spots is one of them. I have invested quite heavily in this pattern over the last few months.
Have you bought any new clothes recently? Which three spring 2017 trends are you excited about? Got any of these in your wardrobe already?
Disclosure: There are affiliate links on this post. Should you choose to purchase an item, I will receive a small commission at no extra cost to you.