This morning when I headed out for my early morning walk and jog, I noticed the change in the weather. It was cool and there was a slight breeze. The cooler weather had me wanting to walk back inside my home to snuggle up to a chunky knit throw. Chunky knit homewares are an interior trend for 2017. We've seen the trend in previous winter seasons, but this year, it is reappearing.
March tends to be the month where cooler nights and mornings become more frequent than the sauna like heat we've experienced during summer. It's this change in weather which prompts me to change over my summer throws and cushions to the winter ones.
Interiors for 2017 are all about texture, and increasing it through the use of homewares and textiles.
Many homeware and textile stores have a variety of chunky knits in both throws and cushions, to add texture to your home.
A throw can be easily draped over a sofa or the end of a bed to create an inviting and warm look. A knitted cushion can be added to a sofa to mix with existing cushions to transform the space from a summer to winter.
If you're wanting to add some chunky knits to your home, here are some I've found online.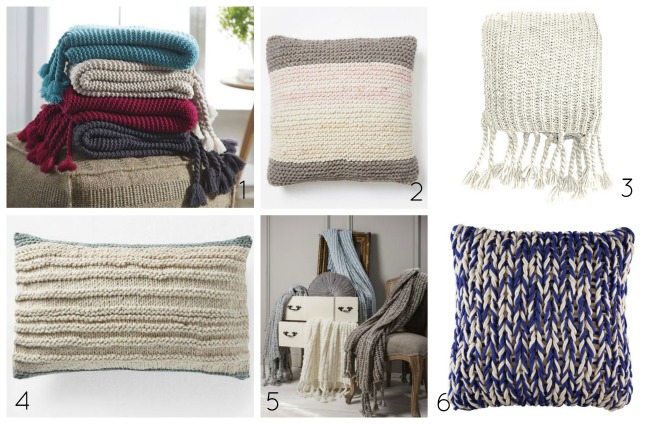 1. Chunky Tassel Throw from Morgan and Finch $69.95
2. Typo Mt Donkey Cushion $59.95
3. Salisbury Chunky Throw $129.95
4. Typo Mt Circus Knit Cushion $49.95
5. Gallery Savoy House Throw $129
6. Splice Navy Cushion $59.95
Tips for adding chunky knit homewares to your home
1. Choose either a chunky knit throw or cushion. If you want or have both, don't layer them together. Put the cushion on a different chair and the throw on the sofa.
2. Neutrals tend to look best in chunky knits so think grey, white, beige – even navy.
3. Add a chunky knit throw to the end of your bed to add warmth to your room.
4. Don't layer your chunky knit homewares with other overly textural pieces. Contrast or match with colour instead.
What do you think of chunky knit homewares? Are they something you'd add to your home for winter?
Disclosure: There are affiliate links on this post. Should you choose to purchase an item, I will receive a small commission at no extra cost to you.