Around a month ago, I had an article get sent to my inbox from Houzz saying pom poms were the new interior trend. I laughed at the article because I have had pom pom cushions for a few years.
My husband does not understand my love for cushions – especially cushions with pom poms. I happily showed him the article and told him I was setting the interior trends baby!
I'm not sure why I love pom poms on my cushions. Maybe it's because they relate to my childhood from making pom poms out of wool and crafting with the felt ones.
I think pom poms add a fun twist to your décor and can add texture to a room.
I made my pom pom cushions using cheap Kmart cushion covers and pom pom fringing bought from Spotlight. If you can't find pom pom cushions that suit your fancy, you can make your own quite easily.
The pom pom trend has been around for a while and even if some people are jumping on the bandwagon now, it's definitely décor I love having in my home, whether in season or not.
Tips for Adding Pom Pom Cushions & Throws
1. Less is more when choosing your pom pom accessories. Choose a pom pom fringed cushion to mix in with other patterns and textures on your lounge or bed. It's not necessary for all the cushions to be fringed with pom poms.
2. A pom pom throw in a neutral shade can work in interiors that are a bit more 'adult' or are classic in style.
3. Make your own pom pom décor if you can't find the colours you're after.
4. Have fun styling your pom pom décor with your existing textiles.
Here are some fun pom pom cushions and throws to consider add to your home.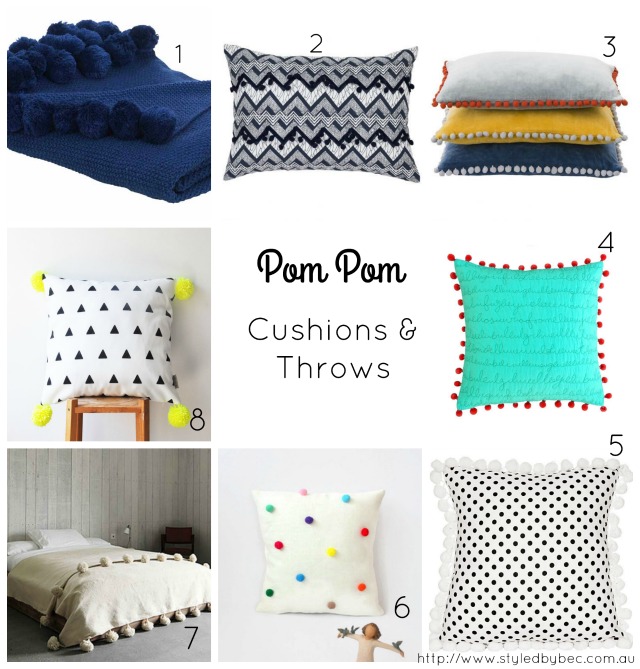 Are you a fan of pom poms on your cushions and throws? Is it a trend you could add to your home?
Disclosure: There are affiliate links on this post. Should you choose to purchase an item, I will receive a small commission at no extra cost to you.