This post has been written in collaboration with Temple and Webster
Our living room is the hub of our house. It's the room that gets the most traffic as it's where we congregate to watch TV, play, do craft on the coffee table and generally hang out together.  A family friendly living room is easy to achieve with a few simple décor and furniture pieces that allow the family to sit and relax, while enjoying each other's company.
Chairs
In our family room, we have two sofas. One 2.5 seater sofa and another 3 seater sofa. We also added two occasional chairs so that guests could have somewhere to sit.
The 2.5 seater couch is the most popular with my girls as it allows them to lie down, facing the TV. We often have fights over who gets to sit on that sofa. To allow everyone a turn on that sofa, I have plenty of cushions, which are used for sitting on the floor with. These are great for when we sit around the coffee table too.
Coffee Table
Our coffee table is looking a bit worse for wear, but we have had it for over 12 years. It's been great for craft, playing board games and a flat surface to put a platter of food for the kids to grab from. Our coffee table has a shelf underneath which is great for storage, which is essential for a family friendly living room.
Throws
I have enough blankets and throws for every person in the house. The way I keep them stored is rolled in a basket. We all love snuggling under a blanket in winter, and even in summer when we've got the air con on and want to have a nap.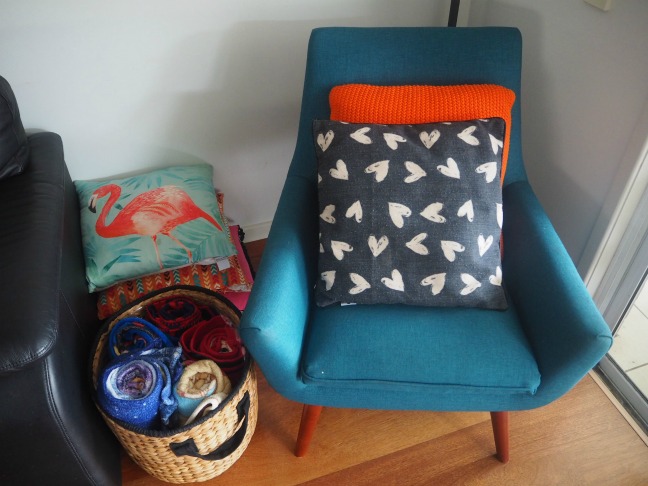 Cushions
Cushions are an essential for me for a family friendly living room, but some families opt to not have cushions as they often end up on the floor OR are used for pillow fights. I have two large, European size cushions for each sofa for back support on the couches. Other cushions are stacked in the corner of our living room, ready for retrieval to sit or create a cushion bed on the floor.
TV Cabinet
Our TV is hung on the wall, which we did for safety reasons. Originally, our TV sat on our TV unit, but my second daughter was notorious for climbing it and I had fears of the TV falling on top of her. We got a bracket on the wall to suit our TV and our electrician was able to hide our cables behind the wall. The TV cabinet is still useful for housing the DVD player, Apple TV and all the DVD's we own. .
Floor Lamp
To save electricity, we use an energy efficient lamp, which gives enough light for when the kids watch a little TV while I prepare dinner at night. Teaching kids how to be energy efficient is important because it can have a direct correlation with your power bill. Our lamp is easy for the kids to turn off and on and they know to turn the lamp on, rather than all the lights in our living room space.
Rug
We have hardwood floors, so a rug is essential for our family friendly living room. It makes for a  nice surface to kneel or sit on when around the coffee table. It also helps zone the space in our open plan home.
Our house is open plan living and it works well for our family. It allows everyone to be part of whatever action is happening in the living room. There is enough space for each family member to find a place to relax and it means the key zones in our home are within reach.
What modern essentials do you have in your family friendly living room? Do your kids like to bring toys in the living room? How do you store them?
Disclosure: I was gifted a voucher for the purpose of this post. You can read my disclosure policy here.