On Saturday, I had to head to the shops to get some Christmas craft from the discount store and tomato sauce for our end of year/Christmas get-together BBQ we were hosting at our house that afternoon.
I told Esther she could come with me to help choose the craft. As we walked into our local shopping centre, we noticed a new Ally store had opened and had 20% off, storewide for its grand opening. I could see Esther wanted to look at the clothes and I was keen too because there were some cute prints in store.
I ushered us past though, and headed to the discount store to get our craft supplies.
But when we walked back, I told Esther to have a look around and see if there were any tops she liked.
Right now she's in a size 8 to 10 in girls clothing. I know we are going to be entering the years where she will have her own ideas of what she likes and doesn't like. I've already looked at some of the offerings in the size 8-16 range in department stores and not a lot of it appeals to me – or to her. So I'm open minded about going into stores that I think would suit a tween to get the right fit.
So we headed in and Esther wandered along the racks, as did I. I found a stripe tee and a printed top that could be worn as a peasant top or off the shoulder, for Esther. I found a striped tee for me.
We headed into the change rooms together and tried on our tops. And I noticed the big smile on Esther's face as she was trying the tops on. In that moment, I got a glimpse of what it's going to be like, shopping with my girls when they are a bit older. Both of the tops fit her and suited her. She commented on how well my top fit me.
We walked away with some new summer tops and big smiles on our faces at having bought clothes in the same store.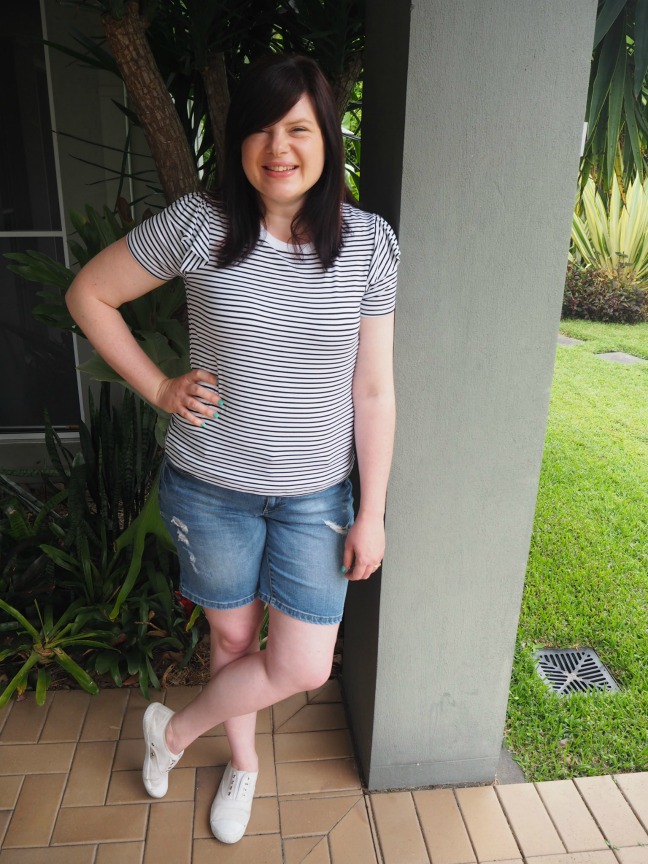 When we got into the car, Esther said, 'Thank you mum. That was so cool we could shop in the same store together. I love you.'
Gah. I had to put my sunglasses on to hide my wet eyes. I was thankful we could have that moment together and it made me excited for the future years with my girls.
While I love and cherish the ages they are now now, Saturday's expedition showed me how much there is still to look forward to.
We got home and Esther proudly put on her tops to show her sisters and daddy.
It wasn't until lunchtime I realised we forgot to get the tomato sauce!
How do you find shopping for clothes with your older kids? What stores do you go to get their clothes?