This post has been written in collaboration with West Village
The way I shop these days has changed quite a bit from when I shopped pre-kids.
In those pre-children days, I loved nothing more than to spend a couple of hours in the city and browse all the shops from the top of the Queen Street Mall, making my way down to Edward Street.
I loved to shop. I still do.
I will never forget the week my husband and I had in when we flew to Melbourne and shopped a storm buying new clothes and shoes. Melbourne was a hub of brands and designers I had never heard. They certainly weren't in Brisbane, because if they were, I would have known where they were located.
In the last decade, the shopping scene in Brisbane has changed. Queen Street mall has had its share of refurbishments with the QueensPlaza and Wintergarden. Boutique store hubs have also been added in parts of Brisbane like James Street, Emporium in the Valley, Portside and the Barracks. Those designer stores that I discovered in Melbourne, started to open in Brisbane.
Of course my lifestyle has changed quite significantly in the last ten years. I became a mum to three children and as a result, my choice of shopping destination relies on a number of factors including availability of car spaces, cost of car parking, how many shops are located in the one building so I can shop in the one spot and how family friendly is the centre – is there a playground I can bribe my kids to play on if they behave so mummy can do her shopping errands?
These days I'm spending more money on groceries than my wardrobe. But slowly the tides are turning and I've been able to re-establish some old shopping habits – but not all of course.
With the change in shopping and even the dining and lifestyle scene in Brisbane, I've felt a little left behind because I've been in hibernation of early motherhood. I felt a little chuffed to discover and write about the new West Village development at West End.
While the new development offers residential living, West Village will be a city precinct, providing a residential neighbourhood for those that don't want to leave the city but still want to have the best dining and shopping options on their doorstep. West Village also offers a world class design destination for those of us that want to visit and experience the culture.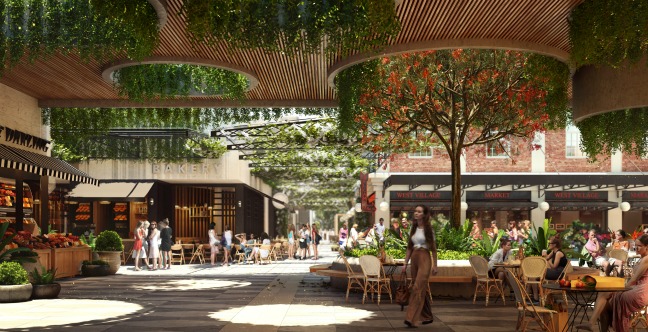 West Village will be the shopping precinct you can park in, but shop like you're in the laneways of Melbourne. It's the place for families to bring their kids, where the kids can run around the park and parents can enjoy a much needed drink or alfresco coffee.
Five major precincts will ensure there is something for everyone, available in the one place, but three of the precincts will offer cafes, alfresco dining options and boutique shopping precincts.
Each precinct is inspired in equal parts by the best global destinations, and what makes the local area special. Alfresco dining, cafes and boutique designer shops will frame the Mollison Green, making it a place to meet friends in a modern location, to catch up for coffee or brunch.
Factory Lane is the place to go for night time entertainment and drinks with inspiration being taken from Jazz Bars in New York. Relax and unwind to music while drinking a cocktail or two.
If you love fresh produce and market delights, Peter's Square will offer provedores, artisan delights and fresh produce so you can take the best tastes and flavourings home with you.
West Village won't be just another option on your list to visit when you want to go out for dinner, it will be the first place think of when considering a place to meet and eat.
If you're excited about this new development and want to make it your home, visit the Display Centre at 97 Boundary Street West End. The phone number for all enquiries is 1300 985 465
In the meantime, I look forward to taking the kids to the awesome free art program currently on offer at West Village, and a little serenity for me at the first café in the precinct – Arista.
Disclosure: This post has been written in accordance with my disclosure policy.