Styled by Bec Statement Bangles are the must have accessory for any woman. This selection of arm candy are unique pieces that every woman will want to own and will wear time and time again.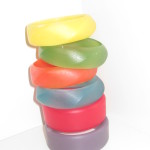 Each bangle has been handmade. They have little imperfections like bubbles which give each bangle a unique look. You can be guaranteed that no bangle is the same. You will be purchasing a one-off design piece that no one else will have.
The season statement bangles are specifically for those clients who have had their colours done and would like to have a bangle that respresents the key colours of their pallete. The four statement season bangles are Winter, Autumn, Summer and Spring.
The block colour bangles are best worn two to together. Utilise the brightcolours of your pallette when choosing your colours for these.
Buttons, feathers and glitter are what make accessories like bangles stand apart! These make the perfect gift for the woman who has EVERYTHING!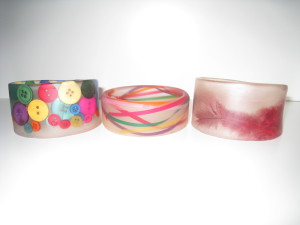 Prices for Bangles
Button my Colour Bangle (Button Bangle) $35.00
Season Statement Pallette Bangle (Ribbon Bangle) $25.00
Red Feather Love Bangle (Red Feathers) $35.00
Block Colour Bangles (Plain coloured bangles) $25.00
To purchase any bangles please contact us through the contact form or email to bec@styledbybec.com.au or go to my store on madeit.com.au http://www.madeit.com.au/storecatalog.asp?userid=59226